RANSOMWARE PROTECTION PLAN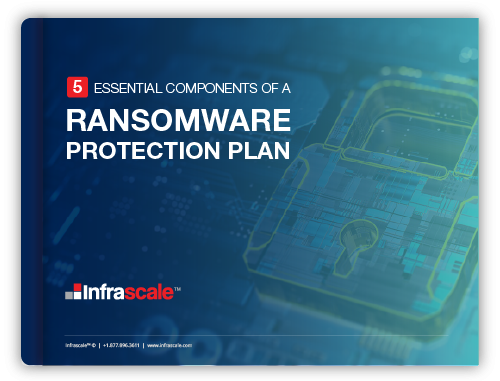 Many SMBs believe their small size provides a level of protection, but 43% of cyberattacks are aimed at small businesses.
IT Pros work hard to thwart attacks yet the threats are constantly evolving, you need a solution that can keep up.
Ransomware attackers often make copies of the data before encrypting it so they can threaten to reveal it publicly if the victim does not pay the ransom.
Infrascale Cloud backup saved the day and helped me save a customer from a ransomware attack. Recovery went as expected and my customer didn't have to pay a ransom.
Michael Coppola, President, CJIS Solutions
ENDPOINT BACKUP PROTECTION
Every company needs a secure, simple to configure, and easy to manage endpoint data protection solution. Infrascale Cloud Backup (ICB)
safeguards your most critical data and fulfills backup and retention requirements.
Function Without Complexity
Backup The Most Critical Data

Backup Wherever You Work

Restore Quickly & With Ease
Safe And
Sound
Protect From Ransomware

Manage Device Loss Prevention

Enforce Security And Encryption
DreamTo
Administer
Automate Install & Security

Remotely Service With Ease

Monitor And Report