DISASTER RECOVERY 2021: 37 TRENDS AND STATISTICS
Key Insights Impacting Your Business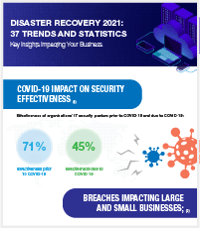 The Disaster Recovery 2021: 37 Trends and
Statistics infographic provides key DR insights
impacting your business.
WHAT DO WE DO?
Infrascale provides comprehensive, cloud-based data protection of SaaS applications, endpoint devices, and servers by removing the barriers and
complexity of secure, offsite data storage, and standby infrastructure for real-time disaster recovery.
SAAS
BACKUP
Protect Microsoft 365, Google Workspace, Box, Dropbox, and Salesforce data from accidental deletion, malicious attacks and limited retention policies.
ENDPOINT
BACKUP
Direct-to-cloud backup and recovery solution for mobile devices, laptops, or remote offices.



SERVER BACKUP & DISASTER RECOVERY
Boot ready in minutes to run your systems when they go down due to hardware failure or natural disaster.



" When disaster inevitably strikes, Infrascale is there with Customer Support Experts to provide predictable, personal, proficient, and proactive guidance — people-powered guidance — that will help pull them through those unimaginably difficult moments. "
Jeff Parton
Manager, Network Operations at Kerusso Activewear